Map Zoom, Smooth Camera and Desura
Hello everyone. Sorry I missed a weekly update, I've just been very busy (and Dota 2 has been a bit too inviting…). Here's an update on one of the most commented about  issues.
Map Zoom Update:
The comment I receive most often is that the map world appears too small and that there is way too much blank space around the screen. So, the option has now been added to zoom in and out on the map. To keep everything neat and readable, only the game world scales, while the UI and pop up windows stay scaled to your window size. This means you can play at the scale you feel comfortable, while all the game's windows stay as designed. Here are examples:
No Zoom (1:1 pixel scale):
2x Zoom (original scale):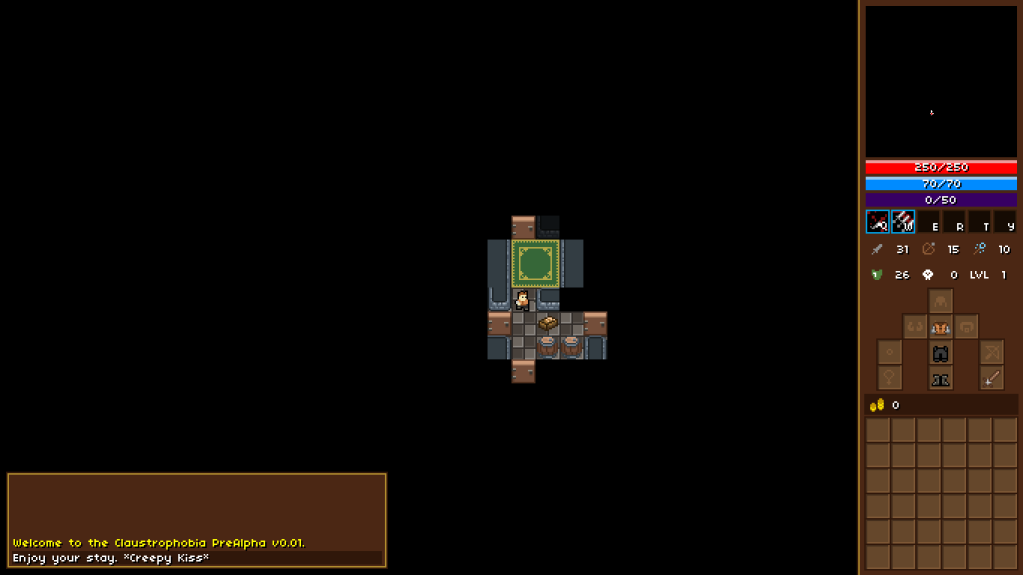 3x Zoom (current default):
4x Zoom: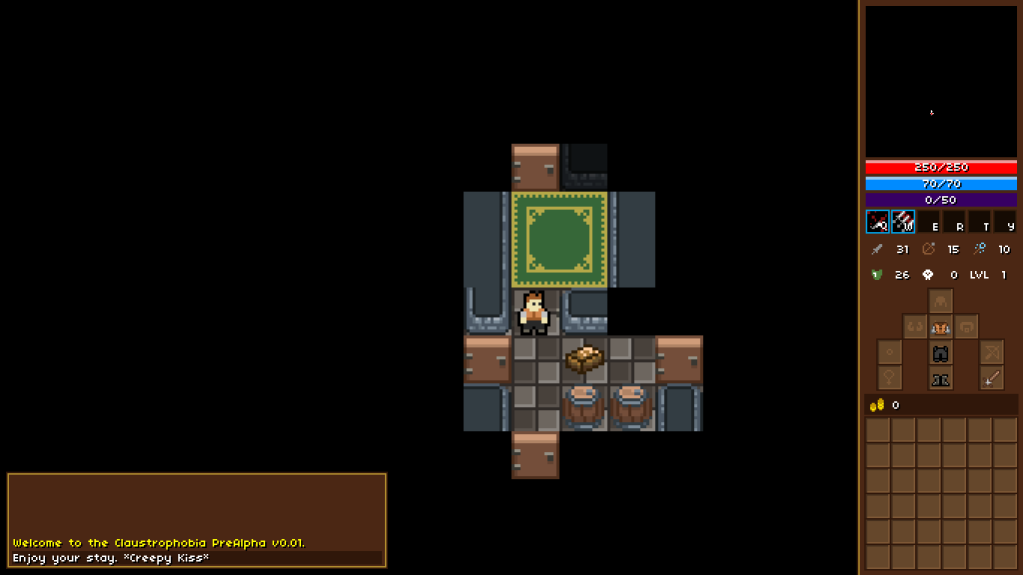 5x Zoom (maximum):
So, it's up to you.
Smooth Camera Update:
Another issue that I had with the game was how moving objects jerked from tile to tile (not so much of an issue at small resolutions, but a noticeably ugly effect at higher ones). So the camera will now smoothly pan from one tile to the next as you're moving about, which is much nicer on the eyes, and looks that bit more polished.
Desura
The final thing for this week is that I will be putting Claustrophobia up on Desura in a couple of days time. This will hopefully give me a little more publicity like Greenlight did in the first place, and will allow me to easy post alphas and demos, which I plan on doing soon. I may also look into alpha funding through Desura because, although I don't need money to support myself during development, I will be hiring a composer for the game's soundtrack, and the money for that will have to come from somewhere. All the music that has been in the trailer (and in the game) so far have been place-holders, and I have a specific vision of the type of soundscape I would like for the game. We'll see.
~TheIndieForge